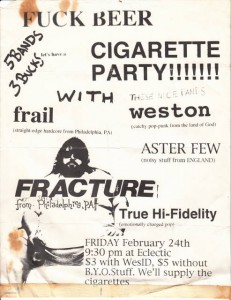 Chris O'Neill was kind enough to scan these old fliers from his personal collection. It's definitely true that fliers, pre-computer design days, had a charm all their own. Cut up, xeroxed messes that showed actual hands-on interaction with the medium. Anyone could (and did) make fliers and each was a piece of art in their own right.
I suppose I could explain each of the shows these fliers were for, but maybe that would rob them of their charm. Too many words are bad sometimes. Enjoy!
By the way, is it "flyers" or "fliers"? I never can remember.