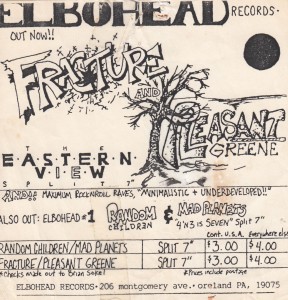 So, I just watched the 1979 Disney movie The Black Hole. Somewhere between 5 and 9 years old, it was one of my favorites. I thought it might be nice to revisit. Sadly, it doesn't quite hold up.
Today, I received these three awesome additions from Chris.
The first one up top there was an unused advertisement originally meant for Maximum Rock n Roll. Elbohead was sort of a disaster from the get go and any real organized release schedule never existed. After the Four N' Three is 7″ we had planned a split 7″ with Fracture and Pleasant Greene called Eastern View. I believe Pleasant Greene was a short lived band with Matt Lieberman and Atom Goren, perhaps post Cut-Short. Atom? Can you help?
Clearly, this didn't happen. The advertisement you see here was poorly drawn by yours truly.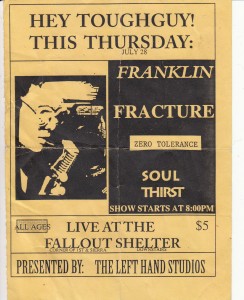 This flyer (I believe) was from our first Fracture/!Franklin US tour however, I really can't say. It's a terrible flyer tho and I'm proud to say that no one I know was involved in making it.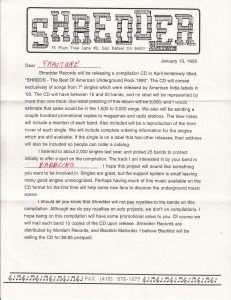 This last one is a letter sent to Fracture from Shedder Records asking them to be a part of a compilation they were putting out. I think we all thought that by Fracture being on this comp. they would sky-rocket to punk success (which at the time meant, being on a label other than one we ran ourselves).
Clearly, this didn't happen either.