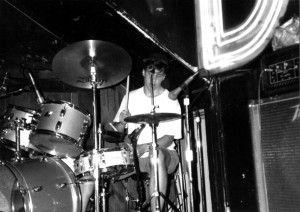 Here are some random shots of Random Children playing at J.C. Dobbs on South Street. There are no details on the backs of these photos as to the date these were taken or which show, but judging by the length of Ralph's dreads and Greg's rather impressive two rack tom set-up, we're looking around mid 1991.
In the first picture, it's Greg doing his thing while wearing his, now legendary, blue and grey Swatch watch. Next to him you will see my first major musical instrument purchase. A Peavey, 2×15″ bass cabinet that I bought from the folks who ran Rave Records (remember the Rave warehouse?) The cabinet cost me $150 and featured a blown lower speaker cone and more beer/puke? stains on it than one could ever imagine, but it got the job done. I remember driving home with that speaker in the back of my 1982 hatchback Honda Accord and thinking that with this impressive speaker NOTHING would be impossible.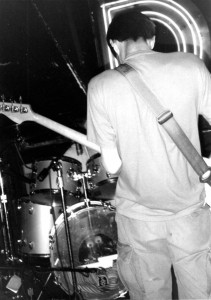 This photo features my back rather prominently. A back that would go on to be featured at many a Franklin show due to a belief that looking forward to the audience who had gathered seemed elitist and too rock and roll.
Again, notice Greg's kick-ass double rack tom action. Sick.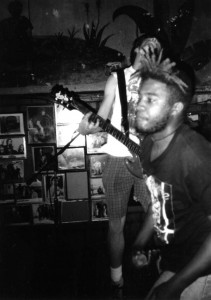 Lastly, we have TJ mid-jump displaying his patented "falcon-claw" finger posture for the ultimate in power-chord perfection and Ralph in his ever so stylish Christ on Parade t-shirt, 7 to 8 mini-dreads and a sweet fade.
Behind them, a myriad of framed photos that covered the side wall at JC Dobbs. I never did look closely at any of those photos to see if they were of anyone (or anything) interesting. Truly, the only time I made any sort of mental note of them was when Nation of Ulysses played and Steve Gamboa, bass player of NOU, took the head of his bass to several of the photos, smashing them. I assumed, rightfully so, that someone was gonna be upset about that.