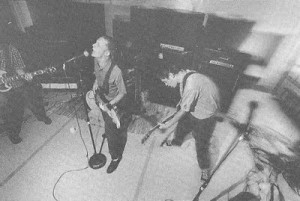 I've been plagued by annoyance as of late. Google Sites, the upload tool I use for hosting the music found on this blog, hasn't let me upload anything for a couple of weeks. Not sure what the problem might be, but it's Google, who can I possibly ask about it? Mr. Google?
Thus, I'm switching over to Soundcloud for this next update. I hope it's not too annoying. You'll still be able to download the tracks, just click on the little black arrow in the right hand menu of the player to copy the song. But, if this change over does annoy you, know that I sympathize. My own obsessive need for structure makes variation in layout from post to post very, very troubling. I hope we can all get through it together.
So, the Goodbye, Blue Monday demo. What can possibly be said other than that I thought it lost forever. I had a copy of this cassette of course, but along with a few other gems, I seem to have misplaced it. However, a few weeks back Tim sent me a link to a Russian blog that seemed to have nothing but the nicest things to say about the boys and their music. I'm not clear on whether the writer of the blog was aware of Goodbye, Blue Monday prior to coming across them on GoKidGo.org, but nonetheless, they are clearly fans and that rools.
Listening to this demo once again after such a long time away from it, I am amazed that this is the same band that went on to record this 7″ and this one here. While they all share a similar style, the mood is so drastically different in the demo. There's an urgency that seems lost in the official releases while the demo just attacks from the first note. That's not to say the split 7″ and 7″ are bad. Not at all. Both have their own voice, but it's a more relaxed feel. This demo is punk thru and thru.
Goodbye, Blue Monday were close friends whom I hung out with on a daily basis. From day one, they solidified into an incredible live band that sounded and played like a ton of bricks. I think I always envied their cohesion as a band. Sure, you might be able to form a band with some great ideas sonically, but trying to gather a band together that plays with real harmony, meaning, a natural tendency to step in time, and you're talking a whole 'nother beast. Goodbye, Blue Monday always blew Franklin out of the water whenever we played live together. They blew almost everyone out of the water when they played live.
I don't remember why the guys broke up. They weren't around all that long. But, I would have loved to see what they accomplished on a full length.
Here's the boys demo in all its glory. Enjoy. Photos by the incomparable Shawn Scallen.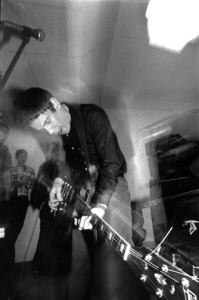 01 Far From A Starched Heritage by GoKidGo
04 Transister Traffic Jam by GoKidGo
05 The Work Of Fools by GoKidGo