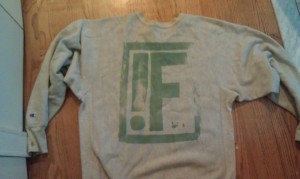 Sometimes the logo is more important than the music. Especially for young kids who are more about the idea of a thing than the talent needed for a thing. That's what makes it interesting.
Rather than trained seals going through the motions of learned musical behavior, they buy instruments and bang on them in new and different ways making a racket that is both chaos and ordered depending on the day.
Similarly, a logo that identifies and classifies the sound as one's own is never far behind.
Greg snapped this pic of one of the first !franklin inspired apparel items. The screen is juvenile and poorly made and probably the better for it.