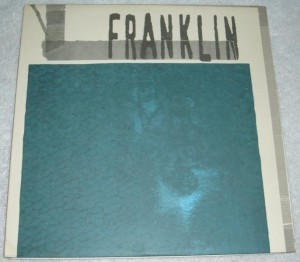 Franklin's first LP, Go Kid Go would be the album of a million faces. Not because we wanted it so, but because it was a record run over by circumstance, mistakes, errors and miscalculations. However, almost 20 years after recording it, it's another one of those situation where warts and all, it's something I remember fondly.
After releasing Something Blue, Automotive and They Said it With Fireworks, Franklin set out to record and release our first LP. We had set our sites on launching another record label (having learned nothing from our poor showing with Elbohead) and dubbed it, Energy Network thanks to Jeb Bell's name suggestion. Again, the goal was to document what we considered to be worthwhile music that was being made at the time. Fracture's LP would be the first release from the label and we'll cover that at a later date.
The second release would be the Franklin LP. As we were preparing to record, a fella named Mike Wessel from Toronto, Canada contacted us. He ran a record label called Workshop Records and was apparently, a fan of the band. He offered to help release our album so Go Kid Go would up being a split label release. I wish I could remember exactly how we hooked up with Mike, but sadly, it's a blur.
We returned to Baltimore, MD to record with Charles Jamison and finished the LP over the course of a very short weekend.
Due to the upcoming Franklin/Fracture tour in the summer of 1995, printed record jackets would not be ready in time. So, we made due with second hand record sleeves that Mike Wessel mailed to us from Canada (details over yonder!). We slit them open, reversed them out and then glued then together again. Using a woodcut that I made with the name Franklin in reverse, hand stamped the individual covers. It was a long, long process made even more stressful by the actual LP's not arriving at my parents house until the very day that we left on tour. I remember puking the previous night due to stress of worrying that we wouldn't have our new record for the tour. That was fun.
Of course, we ran out of second hand sleeves so some folks who purchased the record on tour got a hand stamped dust sleeve with the insert tucked inside. Here's one of those classy packages: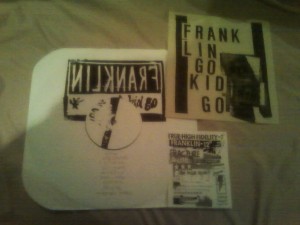 Eventually, upon our return from tour, we would receive professionally printed record jackets for the LP. However, what was not professional was the artwork. Sadly, once again, not having any idea what we were doing, the idea that artwork needed to be something called, "press ready" didn't really make much sense to us. So, the cover that we thought would look brilliant (utilizing a cool piece of art that spelled out "Go Kid Go", duct tape, photos from tour, etc) ended up looking like one of the ugliest LP jackets to ever be made available. You can see it at the top of this post. It was heartbreaking to have the cover turn out so poorly when we were so proud of the LP. Ah well.
Workshop Records would compile the Go Kid Go LP along with the Something Blue, Automotive 7″, They Said it With Fireworks 7″, additional demo recordings and a 4-track tune called Sunshine onto a rather impressive CD.
They would also, finally, give the Go Kid Go LP a proper record sleeve (below). This album was never made available digitally so it's a pleasure to finally have it available for folks on this site. Hope you enjoy buzzing guitars, out of tune earnest yelps and life in snapshot.