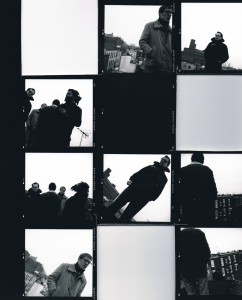 Before computers, I'm not really sure how any records cover art was created. It's still rather baffling to me. In fact, considering some of the disastrous covers that are featured on some early recordings my friends and I were apart of, one could say we were exceptionally bad at getting our design ideas translated into a finished product that actually looked and felt like a real record. Nowadays it's all ones and zeros, but then…well, who knows what the hell it took but thank god for the simplicity and beauty that is the black and white, photocopied sleeve.
I came across these contact sheets in an old folder. They were shots taken by Jenn Schumow on Ralph's roof on Wharton Street in South Philly. I believe Roy was living there as well but I could be wrong.
These photos were taken for our Roy is Dead 7″ and as you can see, several frames are cut out. At the time, we cut out the photos we liked to include in the layout. We couldn't simply send the electronic file to be easily re-sized and properly laid out by a professional. We had to cut the shit out and send it in the mail with crude diagrams and mock-ups. It was pretty funny actually. Fortunately, Yannick Lorraine, the fella who put the 7″ out, had some real design experience and he managed to make the release look pretty spot on.
It was a grey, miserable day up there on Ralph's roof but I always liked how these photos turned out.