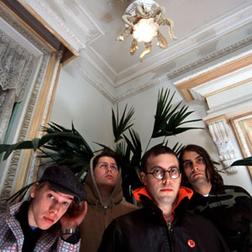 Sorry for the delay in updates! I was out of the country for a spell and things around here got a little slow. However, this is a sweet little nugget.
As anyone knows, good bands tend to evolve. Sure, maybe The Ramones didn't change all that much, but besides them…good bands evolve. Often, this leads to backlash. Music fans like their bands to stay consistent. They like what they like and when a band switches gears too quickly on them, it can be a disaster. I know this first hand from my days playing with Franklin. For every person we met that enjoyed our later records and our more dub inspired approach there were at least two more people saying, "Fuck, you guys suck now! Go back to sounding like a band from DC."
As a musician, it's always a fine line between evolving and alienating the very people who wanted to listen to you in the first place. Life sucks, right?
Anyway, Aspera Ad Astra were one of those bands that enjoyed evolving. Each of their records changed in a dramatic way. From a more standard shoegaze approach to the almost mind-fuckery of their Sugar & Feathered album to their electronica inspired Oh, Fantastica record. Hell, they even evolved their name choosing to switch from Aspera Ad Astra to just plain Aspera in their later days.
Aspera had a lot folks that really went along for the ride with them, but there were just as many people who probably asked, "Huh?" I was certainly one of them from time to time, but now, going back to some of those records, I'm amazed at just how far ahead of the curve they were at the time and my confusion was my problem and definitely not theirs.
These recordings are from the Aspera vault. Some of their final demos before they disbanded in the spring of 2004. Of particular interest is "New Song Demo" and "New Song Rehearsal". It's fun hearing what an Aspera demo sounded like versus a live performance of the same song. Enjoy!