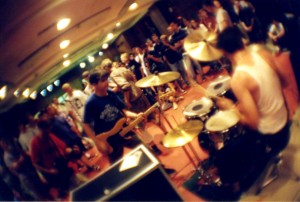 Fracture and Franklin went on two US tours. The first, in the summer of 1994 and the second in the summer of 1995. Being a bunch of kids who were in school during most of the year, summer was the only time available for touring.
At the close of the second tour, it was revealed that Chris O'Neill, who sang for Fracture, would be moving to Bellingham Washington. It was a pretty big shock to everyone as no one ever really expects anyone to leave the gang.
The final show of the tour was at the First Unitarian church in Philly. It was a Cabbage Collective show and once again, Fracture proved why they were a great (yet underrated) band. I believe Frail played the show as well which would explain Don Devore and a bleach blonde Sean McCabe in the crowd.