If there is one thing Franklin wasn't it was well spoken. Of course, I suppose it's rare for any group of 20-somethings to be well spoken when it comes to anything, let alone the music they play. Especially if the four individuals who make up the band that makes the music they are discussing have wildly varying opinions on the music community to which they belong, the music to which they listen and the way music should be absorbed in general.
In short, it's really hard for an interview not to come across as random and disjointed and, more concerning, the person being interviewed not to sound like a complete moron.
Perhaps it's not all our fault. Music interviews are rather difficult beasts and it's rare to meet a reporter or interviewer who has very much new to say. Typically, an interview is conducted on the fly sitting in a noisy location like a city park with no real time to listen and consider the questions being asked. In addition, the questions being asked can be rather ordinary and rote leading to even less interesting responses. It's just a recipe for disaster.
So let's not consider the disaster. Let's just be in awe of the fact that anyone decided to take time out of their day to discuss anything at all with the fellas who played in Franklin.
Today, we've got two interviews. The first, by Eddie Ugarte originally appearing in his Ghetto Blaster fanzine. The interview was done one afternoon before we played Bonnie's in NYC. The interview would have been around 1999 and the release of our self-titled final album. Check out the sweet little review of AM/FM's first EP Audiot in the side-bar!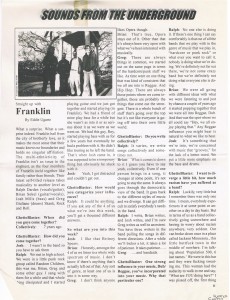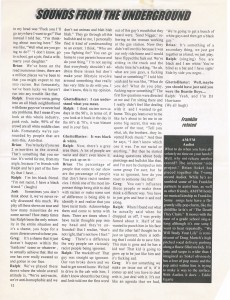 The second interview reiterates my original point that sometimes it's best not to say anything because reading this interview makes my skin crawl! Sadly I do not know the name of the zine this appeared in…if you do, let me know!