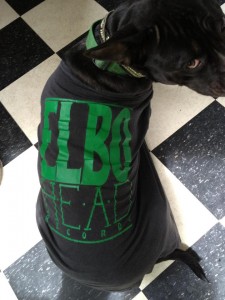 Another quickie today. Stavroula posted this photo on facebook today so, "thanks, Sula!".
What you are looking at is just one in what would ultimately be a long line of ugly t-shirts my friends and I have printed over time to promote one thing or another.
It's slightly odd because, upon reflecting, all of my friends are rather creative, visually talented individuals. Yet, for some reason we often made horrible decisions on colors when it came to t-shirts. I recall a Franklin shirt printed on a gloriously royal shade of purple. Brilliant. What makes it more incredible is that these shirts were pre-ironic ugly days that would haunt us in the 2000's.
These Elbohead shirts, styled by Leyla Hanim, were printed sometime in 1991 to help generate some revenue to release records. As I mentioned before, we didn't generate a lot of money from our releases so for every record we hoped to put out, creative thinking was a mandatory component of fundraising.
I had made a homemade Elbohead shirt and some folks had suggested selling them to raise revenue. Thus, we had these shirts printed professionally. I can't remember how many we printed but it wasn't too many, that's for sure.
But, what is certain? They sure were ugly.
Apparently, Sula held onto this shirt for sometime. It's nice to see it again.