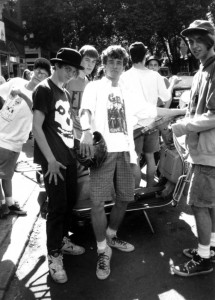 I'm having way too much fun listening to these old recordings. Jeff Vaders sent another great one from the same night as the Fracture original line up live recording. Here we have TJ on guitar and singing, Jeremy Rocket on bass and Fernando Polanco on drums in a band called, The Lost Boys. I seem to remember TJ really liking that movie when it came out so it makes sense that he might have used the name for a band.
TJ and Jeremy are in the photo at the top of this post. Of course, so are Chris, Atom and myself.
Anyways, this song is called Drug Bust and while again, I have no memory of these guys playing anywhere other than this basement show, it's kind of a rad song for some high school kids.