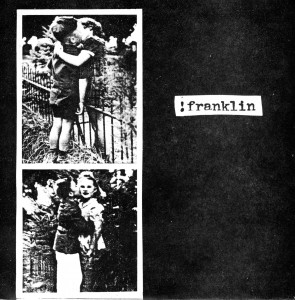 I always thought that Franklin was a 7″ kind of band. Looking back on the recorded output we produced over the 8 years we were together, the 7″'s we released always seem to sound the best to me.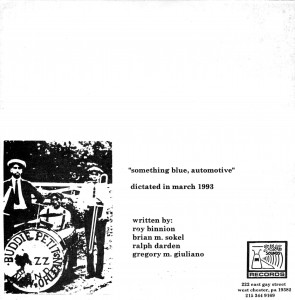 Back cover.
After we recorded the IMPACT demo, Allan Klinger offered us the chance to put out a 7″ on his small upstart label, Slug Sounds. I believe at the time he had only released one 7″ by his own band, but no one else was bashing down our door to release music so we jumped at the opportunity. We did make fun of the name and logo of the record label mercilessly, however. Nonetheless, two months after recording that demo, we were off to record our first 7″ in March of 1993.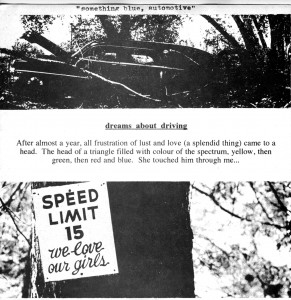 At the time, I was going to school just outside of Baltimore and so we decided to record at a studio called Hound Sound. Located in a really shitty area of Baltimore, the studio was engineered by a fella named Tony French. He played bass in a band called Candymachine and we were big fans, so recording with him made a lot of sense. Besides, the Candymachine recordings we had heard that had been produced at Hound Sound sounded about a trillion times more professional than anything we could conjure up. It's not the greatest recording. The guitars sound a little unnatural but overall, there's a swing to it that feels right. Fortunately, we were able to get Stavroula down to the recording sessions as well to do background vocals on Radio Flyer. We recorded six songs in total during the sessions that made up the recordings for this first 7″. This would be the first of many recordings we made in Baltimore.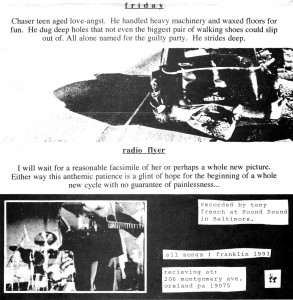 The packaging for the 7″ was handled pretty exclusively by Roy with universal support by the band. Working diligently at local Kinko's, we put together a package that we were all proud of and that would reproduce easily and accurately. It can't be stressed enough that, prior to the proliferation of computers, putting together packaging for any release was a rite of passage for any band. Stolen kinko's cards, glue sticks and exacto knives were the tools of the trade. Sadly, it's probably a lost art form these days.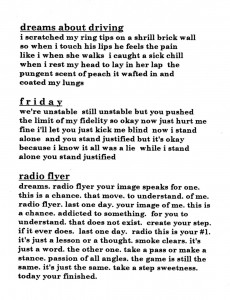 We titled the 7″, Something Blue, Automotive which came from something I had written in a letter to Roy (as I recall). It meant nothing but sounded kinda cool. I believe only 1000 copies were ever produced. Perhaps less, but I still think it holds up. It's got some electricity in it that one always wants to hear in anything they record.