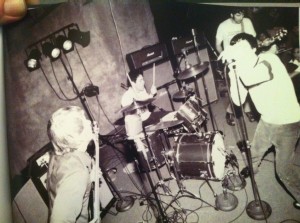 One thing that is difficult about running a blog such as this one is trying to remember details. I've said it before in previous posts, but in regards to certain musical projects or time periods, my memory is pretty much void. An obvious solution of course would be to go to other interested parties and ask them to contribute their thoughts or memories. Believe you me, I have…unfortunately, what I get is a lot of ballooey.
Fortunately, I did see Mike Parsell last night, and he was able to give me a little background information about today's subject, I Am Heaven.
I Am Heaven was a very short lived band that formed somewhere in the area of 1995. As Mike explains it (and I summarize), after Frail broke up, he teamed up with Eric Wareheim and Fred Coldwell who had been playing in a band called Elements of Need. Brian Hutchinson (a fella who had played in a band called Lollycolumn) was looking for a band and thus, I Am Heaven was formed.
Mike, who had been playing drums for Mandela Strikeforce, would stay on the drums, Eric played guitar, Brian would play bass and Fred would sing. They started practicing pretty steadily and began playing shows pretty quickly. One thing I Am Heaven was known for was their equipment. Believing in the idea that, "more volume meant more awesome", I Am Heaven boasted the following gear when they played live:
2 – 8×10″ Marshall guitar cabinets
2 – 2×15″ Fender bass cabinets
2 – Mark II Marshall guitar heads
2 – Ampeg bass heads
Mind you, this was potentially enough wattage to power a small radio station, but I Am Heaven, only being around a short while, rarely played outside of basements. Needless to say, a typical I Am Heaven show (while visually impressive because of the sheer amount of equipment) rarely sounded like anything more than ear-splitting noise. Which was a shame since they had a great bit of talent between the bunch of them and some righteous grooves.
That's why it was such a pleasure when they recorded this 12″ LP. To this day, I don't think anyone can say for sure if it was ever officially released, but I managed to get my hands on a copy of the vinyl, sans cover. Was there a cover? I don't know.
The record was recorded at Snugfit Studios by an older fella who lived with his Mom. Several bands would record there over the years and it's understandable why. The ride cymbal on this I Am Heaven recording sounds great. It's really difficult to get a good ride cymbal bell on recording so when you find a person that can, you stick with them.
Of course, following I Am Heaven, Mike and Brian would go on to form Goodbye, Blue Monday with Tim and Chris from True High Fidelity. Eric would form Ink & Dagger with Don Devore and Sean McCabe and Fred would kind of groove out for a while.
Sorry, no song titles on this slab of wax. Enjoy!