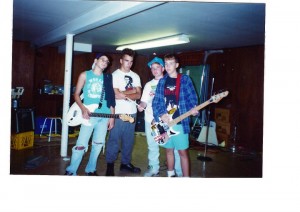 FINALLY! I've convinced someone, other than myself, to spend a little time adding some content to this blog. It's been a long, hard road of convincing and encouragement but after much hemming and hawing, Atom Goren (one of my bestest friends of all bestest friends) has accepted the challenge. Today, we reflect back to our High School days.
A bit of back story…
Atom and I met in first grade. Almost immediately, we were inseparable and became the best of friends. However, after a few years in Elementary School, Atom moved on to private school while I stayed in the public school system. Now, when you're young, staying in touch with friends is pretty much impossible. Even tho we only lived about a half mile from one another, I wouldn't see Atom again until many years later.
Fast forward to High School. I meet a kid a year younger than me named Matt Lieberman. He's a kid who digs punk music and he quickly becomes a friend. Then we discover Matt lives across the street from Atom and their families are very close. Turns out Matt and Atom are friends and about 5 years after the last time I had seen Atom, we reconnect. It's as if we hadn't missed a beat. Amazing how life does that sometimes.
Atom and Matt started a band called Cut Short and this is their story.
Cut Short was a band composed of Jeff Vaders singing, me on guitar, Rob Bell on drums and my friend who lived across the street from me, Matt Lieberman on bass.
I met and became friendly with Brian Sokel, Paul Stefano, T.J. Cooney, Chris O'Neill & Greg Giuliano when we all attended Enfield Elementary school (where my daughter ended up going and son prepares to start at in a few weeks) for 1st grade in 1980.
After 4th grade, my parents moved my sister, my brother and me to a private school which, by surrounding me with an abundance of jerky peers, assured that in time, I'd either be assimilated or isolated. Fortunately, the latter was the case. During my eight year stay at this school, my athletic abilities (or relative lack thereof), my cultural upbringing as a Jew (thus making me a target) and my folks' emphasis of the importance to niceness to nerds, rather than the brutal humiliation of them, which my peers espoused, pointed me towards the path of isolation at the new school over the next eight years. Due to the separation of going to a different school and experiencing a modicum of popularity for the first couple of years at the new school (likely due to my large muscles & good looks as much as the impressive reservoir of baseball statistics that I had memorized), I ended up losing touch with Chris, Greg, Paul, T.J. & Brian over the next few years. I consider one of the most fortunate occurrences in my life that I ended up reconnecting with these folks and many more who would affect the outcome of my life in such significantly positive ways.
I reconnected with these old friends in the basement of my neighbor Matt Lieberman, who lived across the street because he and I remained friends from early childhood and he went to public school with my old friends. Along with the aforementioned friends, many who remain my closest friends to this day, were an additional number of folks who played music and were into similar stuff as I was. Jeb Bell & Jeff Vaders were among those people.
For some reason, Jeff quit Fracture version 1.1  and I had a great time hanging out with him during the summer of 1990 so we started Cut Short.
Matt's parents were kind enough to let us practice in their basement each weekend and at some point, we recorded the following songs on my brother's unused Tascam Portastudio – 4 Track.  I didn't know how to use it well enough to make it a four track, but did know how to use it well enough so that you could record things on it if you stuck a microphone in it.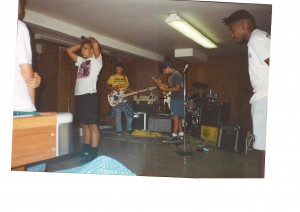 Once or twice, Matt's parents allowed us to have a 'show' in their basement. During these times, we wholeheartedly considered playing our songs to one or two Springfield High School AV Club members, our friends' bands (The Random Children, Fracture's first incarnation perhaps?…) and subsequently taking turns watching them play their songs to us, a 'show'.  I think these 'shows' were the only performances Cut Short had, as the only other aborted show we attempted to play was an open mic night at a bar in Ambler, PA that Matt's bass guitar teacher had recommended. This, however, didn't turn out as we had planned, (even though we had printed out fliers on Matt's computer) since upon arriving there with at least two of our dads, we were quickly found out to be several years short of (even a combined age of) twenty-one.
Hearing the Cut Short songs for the first time in decades absolutely affects me. In fact, I'm struck by combination of emotions that I could feel simultaneously.
SHAME/EMBARRASSMENT: The lyrics of the songs, and the apparently unstoppable urge to put a guitar solo in each song don't feel great to revisit. In fact, I couldn't even bring myself to post 'Cut Short' the song (the song Cut Short, by the band Cut Short, which ideally would have been released on the self-titled LP, Cut Short), because of the lyrics I wrote, which are like the diary-a of a sad teenager, who missed his 'camp friends'. I can feel my cheeks blush even typing about this. So, for exhibit A, I produce one that produces a little less of a physical reaction on my part. This is a Vaders/Goren collaboration: Death Syndrome. It's probably worth emphasizing that it thankfully contains the couplet:
"Out of your mouth is saliva and foam. You've got the death syndrome."
In case you're wondering, it's about people who use 'cocaine, pot & crack' because they'll, 'have more friends, if you do that.':
EXCITEMENT: It's interesting to hear songs that, even decades after we practiced them to death and recorded them, still appear to be etched into my brain on some level. I don't recall the name of this next song, but the title 'Religion is Bad' fits & may in fact, actually be the original title. I can't help catch a little of the nerdy & genuine glee the excited screams that immediately follow this song, show, because we couldn't control our enthusiasm for 'nailing' this new song. This feeling still resonates with me as I still don't think it would have been possible to play this song any better.
REVERENCE (this will become clear if you dare to listen to these songs): The shows in Matt Lieberman's parents' basement usually concluded with people from the different bands grabbing instruments and combining to play cover songs. Here are some recordings of a few of the cover songs that Cut Short played while goofing around at the end of a practice. They include 1945 by Social Distortion, complete with air raid siren sung by me, No Sleep Till Oreland, old favorite Pat Brown by the Vandals & Small Man Big Mouth by Minor Threat. All instrument assignments were the same, but Jeff played guitar and I sang these. If you listen really closely (with headphones), you'll be able to tell that these aren't the original recordings from the original bands' records.
1945
NO SLEEP TILL ORELAND
PAT BROWN/SMALL MAN BIG MOUTH MEDLEY
DIE DIE MY DARLING
Looking forwards to Jeb's comments, or at least the knowledge that he is sitting somewhere, shaking his head,