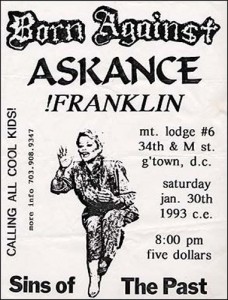 A fun site to visit in your down time is Hardcore Show Flyers. While the person running the site is obviously bent towards, "hardcore" in the more 90's sense of the word, they have done a pretty amazing job archiving hundreds and hundreds of flyers from all over the damn place.
The flyer above is from a show Franklin played down in DC with Born Against. The Mountain Lodge was a small coffee shop space, so people were packed in and it was incredibly fun. Ralph and Roy ended up on the floor of the venue with Sam McPheeters while B.A. was playing. Needless to say, we were fans. Actually, a photo of that incident (I believe) is documented in the Born Against/UOA split 7″ insert.
The second flyer is for advertised shows at the unwholesome lair that was the 508 House.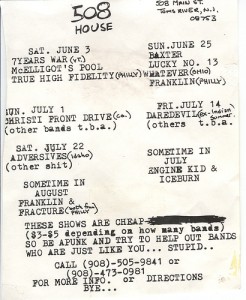 Righteous.