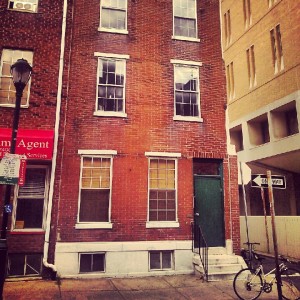 This is 252 S. 10th Street in Philadelphia PA. It's a rather unassuming row home and looks similar to just about every other row home in the city. However, just like any location, there's always a history.
This is where Ralph lived when he first moved into the city and out of his Mom's house in Mt. Airy.
He and some friends rented the first floor apartment and his room was where the two basement windows are. Behind those two small windows is where Franklin began to practice that first summer in 1992 after we had graduated High School. Stavroula lived across the street above her parents Greek restaurant and we would spend many, many afternoons on those steps and in Sula's family restaurant.
I always meant to stop and take a photo of this old building for my own memories…this morning I finally did.