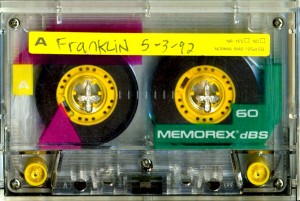 Franklin started early in 1992. Greg, Ralph and I had been playing in The Random Children and after the effect that the music coming out of Washington DC from around 1988 thru 1991, we started to get the feeling that what we had been doing in The Random Children didn't quite cut it for us anymore.
It was a tough time because TJ, the fella who played guitar in The Random Children was not on the same page that Greg, Ralph and I were on and after playing music for couple of years (not to mention growing up together) we decided it was time to move on without him. Ralph and I really wanted to begin playing guitar (I had been playing bass and Ralph had only been singing) and we really wanted to do more than the standard 1977 punk rock thing. Looking back now, it was rather unfortunate. TJ was an incredibly good guitar player for only being 18 and now being 36, I still don't think I could hold a candle to his Steve Jones/Johnny Thunders guitar hero playing.
But nonetheless, we moved on. Ralph had started living in the city at 10th and Pine and we decided we'd get started playing in another band. We had no bass player and all we kind of knew was that we really wanted to make some fucking noise. We wanted to experiment. Ralph mentioned he was friends with a girl who lived across the street from him named Stavroula Kritikos and insisted she play bass. Stavroula who we nicknamed, Sula immediately started playing bass although she had never played a note before. Of course, at the time it didn't matter. We were all experimenting with our instruments.
We began playing in Ralph's apartment, a basement room filled with more shit than anyone could possibly imagine but it became like a second home. We wrote a couple of "songs" and we decided to go right into a studio to record them. At the time of this recording, we had been playing for approximately 5 months.