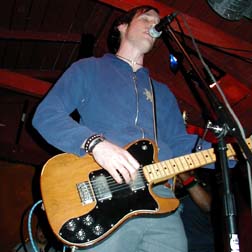 Stumbling around the internet I found this. Reposted here for convenience.
Lee's Concert story
On Wednesday March 20th I had a final exam until 10pm and decided to go over to the Che Cafe afterwards instead of studying for my last one. Atom and His Package were playing, along with Aveo, whom I had seen opening for The Dismemberment Plan and Death Cab, and AM/FM, of whom I had heard good things but had never actually heard. I am not a fan of Atom, and really just wanted to see AM/FM, so I was glad to find that I hadn't missed them when I arrived at 10:30 and they were still doing their sound check. Unfortunately for the band, but good for me, the majority of the Che kids that night were there for the headliner, so I was easily able to get right up front to see the band and take pictures. I was very pleasantly surprised at what I heard, this band was awesome! It took me until I went to their website after the show to learn that AM/FM is really only two guys, who, at the show, were the singer/guitarist and the other guitarist, but who record every instrument between the two of them. (Brian Sokel does vocals, guitar, 12 string guitar, mandolin, keyboard, and percussion; Michael Parsell does drums, guitar, percussion, and keyboard.) At the show they had a full band of six musicians – a guy on keyboard, a drummer, a bass play (who was extremely energetic and fun to watch), and a back-up singer. They played a fairly short set, ending it with a long, mostly instrumental song, a few sets of words including "eh, eh, eh!" I was way into this sometimes poppy, sometimes rockin, sometimes mellow music, and am so glad I decided to sacrifice my study time to see them! On a side note, I talked to Brian after the show to get a station id from him, and he was super nice! It always makes me like a band more when they are nice to the little people.
all photos taken by Lee Meredith. Thanks Lee!