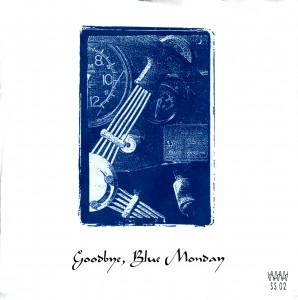 If there's one thing that seems to be a constant with any band it's that there is always one person that ends up being the odd man out. A band is a gang and ultimately, there tends to be someone that just doesn't jive with the rest of the group by the end. There's never a specific reason for it, especially when you look back with hindsight.
After the Tazmanians, my very first band, Chris was left behind. Then in the Random Children we left Ron behind and picked up Ralph. Then when Franklin formed we left TJ behind. It's never pretty, it's never fun and it's kind of sad really.
True High Fidelity kicked it for a couple of years but by the time the band ended, Dave was the odd man out. Josh started playing with Franklin after Roy left and Tim and Chris formed a new band with Mike and a fella named Brian Hutchinson. Mike was the odd man out after the demise of Frail so you can see how this sort of thing happens over and over again. Their new band was Goodbye, Blue Monday. The name taken from a Vonnegut book, one of the guys favorite authors.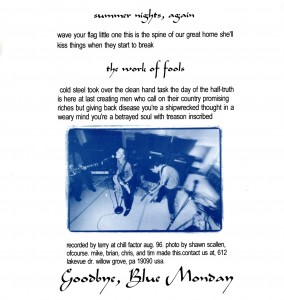 When they started, I was immediately amazed by how quickly they just seemed to gel. Almost immediately their sound was dense and complete. Live they could just fill the room with dense, melodic music. Looking back, while it might suffer from the calamity that became "emo" music, theirs was a solid, unique sound at the time. Franklin would tour with Goodbye, Blue Monday in 1996. One of the best trips of my life filled with a million fond memories and destinations that none of us had ever seen before. But I'll always remember playing with them and thinking, my god, they just sound fucking great and there's no way in hell we can follow them.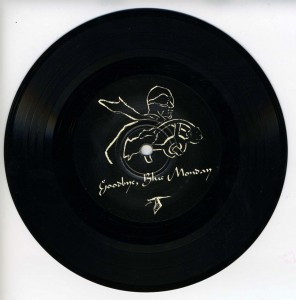 These songs are from the split 7″ they did with Across Five Aprils. The 7″ was the first release that Shawn Scallen released on his Spectra-Sonic Sound label. In fact, the label was started specifically so Shawn could release their song "The Work of Fools". He loved that song and it inspired him to get a label going.
Pretty awesome.