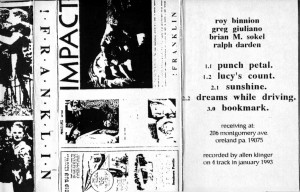 I guess looking back on it, once Franklin got up and running, we were moving pretty quickly. We had recorded our first demo in May of 1992, just as we were graduating High School and just as quickly we started playing shows in and around the area. Sadly, by the end of the summer, Stavroula had made the decision to go to school in Washington DC and I guess we sort of realized that while she was the most awesomest of people ever, we might want to take that opportunity to bring in a bass player with some experience. Stavroula never seemed to feel totally confident on stage so as a group we agreed to move on.
We didn't really know who would play bass until we played a show at Tyler School of Art. There we met Roy Binnion, a kid Ralph already had met and who seemed to be genuinely into Franklin. He mentioned that one of our songs was a favorite of his and we thought, well, he sure seems to make sense. At the time, Roy was running a small record distribution business out of his dorm room. When I say small, I mean really small. He'd organize groups of kids who wanted to buy records, place orders for the album with distros like Mordam and sell them to all of his friends. Because of it, Roy had one hell of a record collection and got all the new records before anyone. He was a pretty sick dood.
Roy joined the band and sadly, I can't recall anything about the first time we might have practiced together or even the first show we played together, but I do remember that the connection was instantaneous and Roy was in like Flynn.
Roy's family was living in West Chester and a lot of his friends from the area were also enrolled at Tyler. Because of that, all the kids from Philly started meeting all the kids from West Chester and our gangs got a little larger.
We played a couple shows in West Chester and one of them was at a fella named Allen Klinger. He was a friend of Roy's and would put on shows in his basement. Allen was a little older than us but a really great guy who had decided to start a record label of his own. He had also set up a 4-track recording set up in his house and suggested we do some recording with him to see what came of it. We recorded our second demo, titled IMPACT in January of 1993. I remember spending several evenings in Allen's basement recording the rough tracks with drums, bass and guitar then shifting upstairs to his bedroom to record vocals. We sang in his closet.
We would record many of these songs a little later for our first real 7″ release. At the time of this recording, several of the songs had different names and our song Bookmark was still an instrumental. It's also important to note that we made the brilliant decision when writing Michael to not have any part of the song repeat and each segment of the song to have varying number of repetitions. Whatever were we thinking?
Michael (called Punch Petal on the demo)
Sula's Count (called Lucy's Count on the demo)
Dreams About Driving (called Dreams While Driving on the demo)