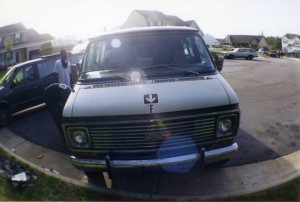 As any band will tell you, there's an art form to any band van. Once a gang decides that driving multiple vehicles to an out of town show, or asking to borrow a parents station wagon is simply no longer in fashion or practical, the business of buying a band van is officially underway.
These days, bands can make significantly more money touring than they ever could back in the 90′s so vans are frequently rented. And while that is a practical solution, it loses some of the charm of owning a band van.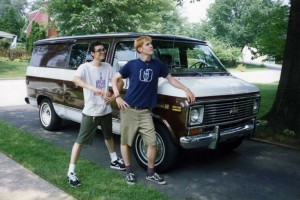 Once Roy joined Franklin in 1993, we were still driving to shows borrowing Greg's parent's station wagon. However, once we decided we would attempt an actual US tour in the summer of 1994 we decided that we would take the plunge and buy a van.
The van we bought was a 1977 Chevy Nomad. I wish I could recall how we found the Nomad, but we did. Roy and I went with my father to check it out. My father, who has worked on cars since he was 16, loved it and so we purchased it for the whopping sum of $700. If there was ever a greater van in existence, I've never seen it. It was beautifully kept. A little rust here and there, but we patched that up right quick. The back of the van, had no windows. Perfect for band equipment security and it was brown with a white racing stripe. Brown!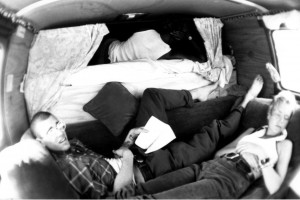 After we purchased the van, Roy left Tyler School of Art for the summer break and took the Nomad home to West Chester with him to soup it up for our tour. Here's where owning your band van really makes it special.
Roy constructed a perfect loft in the back of the van. Strong and durable. The equipment could easily be stored underneath in a secure, anti-theft cavity while members of the band could sleep on top in comfort! Roy trash picked an orange love seat that was also a fold out bed. So, he took the mattress off the fold out and used that as the mattress in the loft making it basically, a comfortable bed. Once the fold out bed was removed from the interior of the couch, he built a storage locker inside of the couch, under the seat cushions for storing personal belongings The couch was used in replace of the back seats of the van for added sleeping space. Brilliant! In addition, he built a large wooden storage locker that sat just behind the drivers seat for even more storage of equipment, food and miscellaneous junk.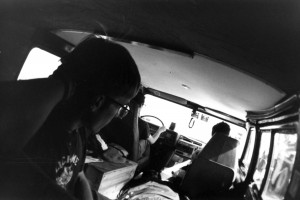 As for decorations, the van was treated with late 70′s baubles to compliment the 70′s wood paneling and brownish, faux-leather on the interior. A shag carpet was added to the floor to add flash and pomp and ultimately, the van was a portable living room. In addition, the van had cruise control (an incredible feature for 13 hour drives).
That's not to say the Nomad was flawless. As anyone will tell you, an old van requires love and attention. On the first trip with the Nomad, heading to Wilkes-Barre PA to play with Frail, we blew a cooling hose causing us to miss the show. However, the Nomad traveled with us for several years before being murdered by a horrible, disgusting drunk driver near State College PA (photos forthcoming).
Nonetheless, I felt it important to honor the Nomad. It was a beautiful vehicle. It was a honor to have found it. Thank you Nomad. From all of us.
Hope you enjoy these photos from the Nomad. Please note the "boom box" in the middle of the dashboard. The Nomad had no working radio and this was long before iPods and whatnot. We traveled with boxes of cassettes stashed under the front driver and passenger seats. Cassettes…a real medium.